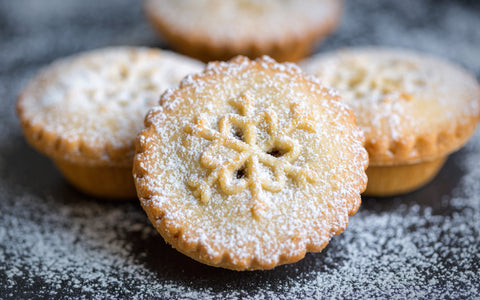 Artisan Mince Pies
Spend £50.00 to get a free Cheese Truckle worth up to £5.50.
Hand Made Mince Pies.
Ingredients including allergens
Mincemeat (47%)(Sugar, Apple, Raisins, Sultanas, Currants, Glucose  Syrup, Glucose Fructose Syrup, Orange Peel, Lemon Peel, Vegetable Oils, (Palm, Sunflower,), Rice Flour, Modified Starch, Mixed Spice, Acidity Regulator, (Acetic Acid, Citric Acid, Colour(Caramel, Orange Oil, Lemon Oil, WHEAT(GLUTEN), Flour,Calcium Carbonate, Niacin, Iron, Thiamin, Raising Agents,(Diophosphates, Sodium Carbonate))Vegetable Oils(Palm, Rapeseed, Palm Stearin), Sugar, Water, Salt, Emulsifier(Polyglycerol  Esters of Fatty Acids), Colours(Curcumin, Annatto Bixin), Flavouring.
May Contain NUTS, Allergens in Bold.